Working alongside award winning experiential design company Outside Studios, Reade Signs were instructed to design and engineer a range of interpretive signs and structures throughout the historic spa town of Great Malvern in the West Midlands, famous for its 15km of ancient rocks and hills that surround the town and attract a wide range of visitors year round.
Most commonly known as The Malvern Hills, the dramatic landscape offers walks and routes for both beginners and experienced walkers across its 160km of footpaths.
The objective of the 'Route to the Hills' project was to create an interpretation trail between the Malvern Hills and the town itself, showcasing its heritage and migrating walkers from the hills and into the town through a series of bespoke plaques, artwork and signage. It was imperative that the series of signs complemented the Malvern Stone exposed throughout the town. The client's original vision was to use bronze, but being notoriously expensive and prone to degrading and tarnishing, Reade Signs' experienced team suggested a more economical and practical alternative – using aluminium panels coated with Verometal, a thin painted coating containing bronze – to achieve the desired effect at minimal cost with even greater usability. Committed to absolute customer satisfaction, the Reade team then conducted a thorough proto-typing process to ensure the perfect patina was found and agreed upon. We also advised that a suitable lacquer be applied so that all signage was weather resistant and graffiti-proof.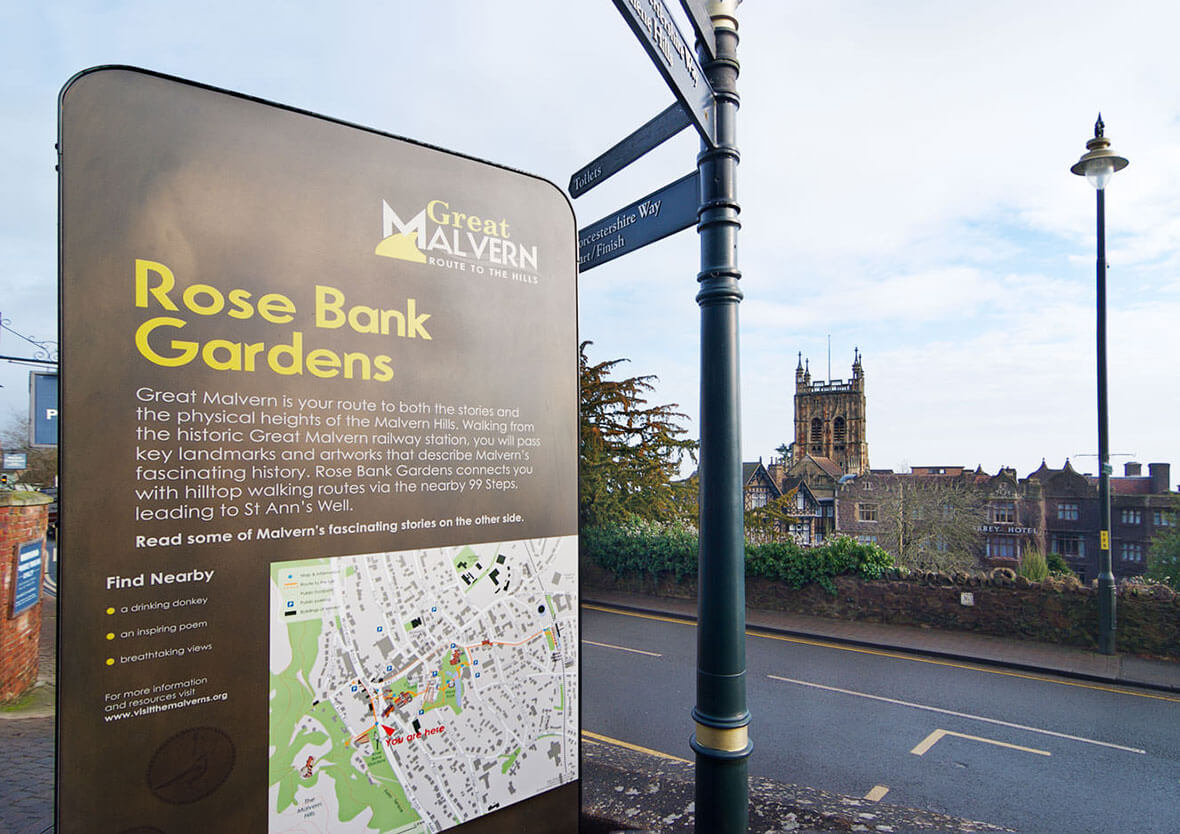 As the signs and structures were to be installed partly on council grounds, a stipulation was that they needed the ability to be easily removed, leaving a finished and risk-free surface once extracted. The knowledgeable Reade team decided that Nal Retention Sockets would be the ideal solution, enabling the structures to be effortlessly installed – and removed – as opposed to using traditional foundations. A template the size of the actual signs was then manufactured and used to ensure the Reade installation team plotted and fixed the Nal Sockets with 100% accuracy and precision. By the time it came to fitting the actual signage, it was as simple as slotting the structures into place.
With Safe-contractor and Quality and Environmental Management accreditations, our client was in the very best hands as our capable team worked closely with the Council's Ground-worker and ensured a seamless installation.
The result? A strong, clear and branded wayfinding scheme that reflects the town's quirky personality and connects its rich history with its natural surrounds using inspiring, bespoke and quality signage. Reade Signs' expert knowledge and experience enabled the customer's visions to become a reality; saving money without compromise, using the best materials and providing the utmost attention and care throughout the entire process.
Reade Signs – Applying Knowledge. Creating Visions. Delivering Value.