CYC:D (Pronounced as psyched), is a new concept in fitness. A modern, stylish and inspiring boutique fitness studio with its first opening in Haslemere, Surrey, delivered by Reade Signs.
The ethos behind CYC:D is simple yet very effective in today's very crowded and competitive fitness market. The class schedule is designed to fit into a busy lifestyle, the booking process is super simple. No contracts, the best equipment, the best instructors and super cool music tracks. A unique combination of complementary group workouts providing a fitness experience which challenges the norms.
So our brief? CYC:D asked us how do we communicate our individuality to our customers and make them want to keep coming back for more?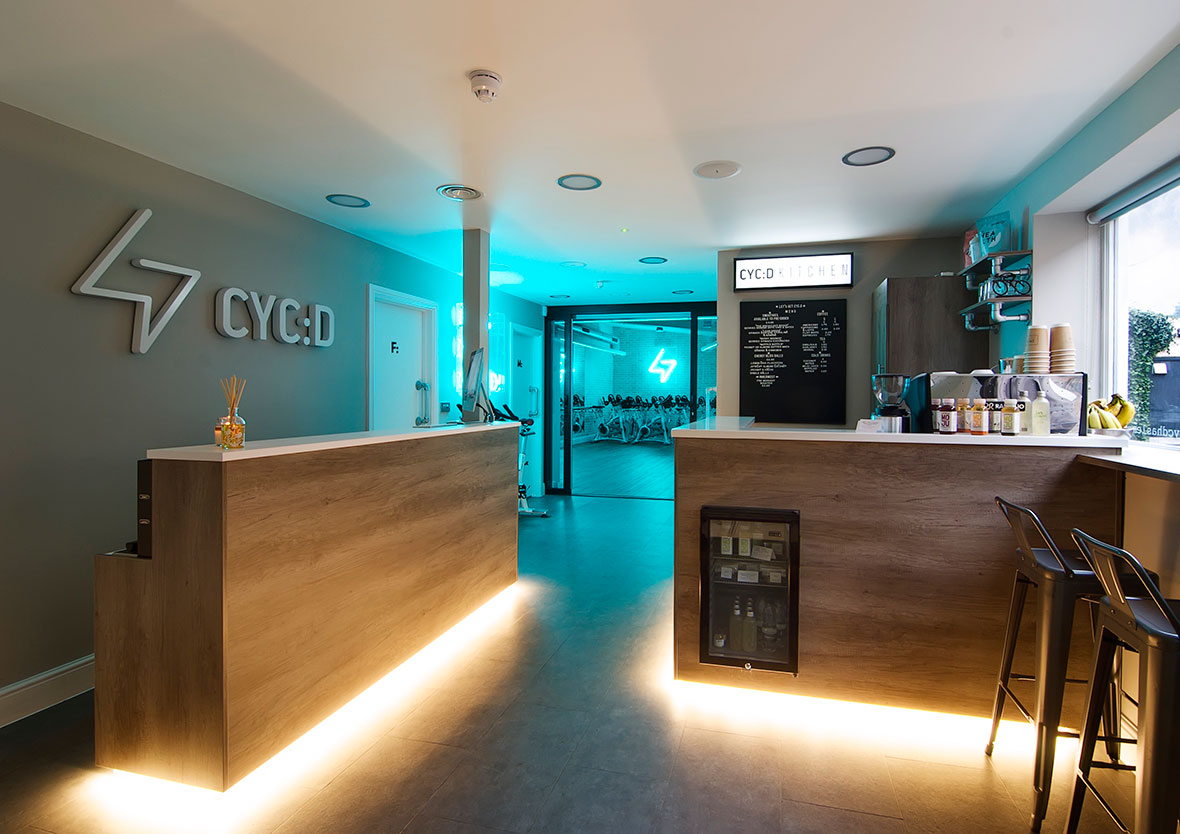 Challenge one – CYC:D had put as much thought into the design of the studio as their offer. With very specific ideas, we were on hand to advise how those designs could be adapted for the public environment and adhere to health and safety legislation. A signage specialist like Reade Signs will be able to interpret such a brief and bring those concepts to life. This project included custom made neons behind acrylic panels for safety, stand-off lettering, and printed and cut vinyl to name but a few. Expensive bespoke illuminated light boxes were on the customer wish list and we designed and commissioned alternatives that created the same effect, at a fraction of the cost. Our team were also able to suggest further opportunities for branding in the shower and washrooms that hadn't been considered and saved money over alternatives such as traditional tiling.
Challenge two – Create a brick-effect wall finish in the main gym, but we want it 3D and you can't fix into the already sound proofed walls. For all the specialist bespoke signage elements required, Reade Signs sourced all products using their extensive network of reliable connections developed over 35 years in business, providing a one-stop shop solution to the customer. The brick effect panels we recommended gave a fantastic finish to the studio and required minimal fixing to preserve the noise barrier. CYC:D were delighted with the result.
Challenge three – Well to be fair it wasn't really a challenge for us. CYC:D had a strict launch day and like all our customers, expect us to work with their timetable and around their other suppliers. In this particular case, the studio was already live and working whilst the interior and exterior signage was to be fitted. Reade Signs took charge of the project coordination, working closely with all parties involved to ensure each aspect of the project ran smoothly. The customer was fully informed of the process from start to finish and was delighted with the final product, which was installed and completed ahead of the launch day deadline. We provided full consultancy from the beginning with a designated Project Manager, tailoring the signage to the customer's needs and visions with the best use of materials to achieve this. The most important bit? The excellent feedback and reviews CYC:D have received since opening. It's truly an inspiring environment – so working out feels like fun. So we've delivered their mission – CYC:D is about more than just the workouts, it's a lifestyle and a journey. We are delighted to have played our part.
"[Reade Signs] ensured everything was ready to go for our opening and were mindful of working around our customers when we had opened. Installation was quick and expertly handled and we are extremely pleased with the quality of the signs. We would not hesitate to use them again".

Faye Walton, CYC:D Director.
Reade Signs – Applying Knowledge. Creating Visions. Delivering Value.