Last week I made my way to Leicester with my colleague Marc Kisko to attend the British Sign Awards 2018. The awards celebrate some truly remarkable achievements that demonstrate the wealth of skills and creativity that make the British sign industry world class. Marc, who is 22 and has been with Reade Signs for four years, was shortlisted for the Young Sign Maker of the Year category. And I'm absolutely thrilled that he won the award!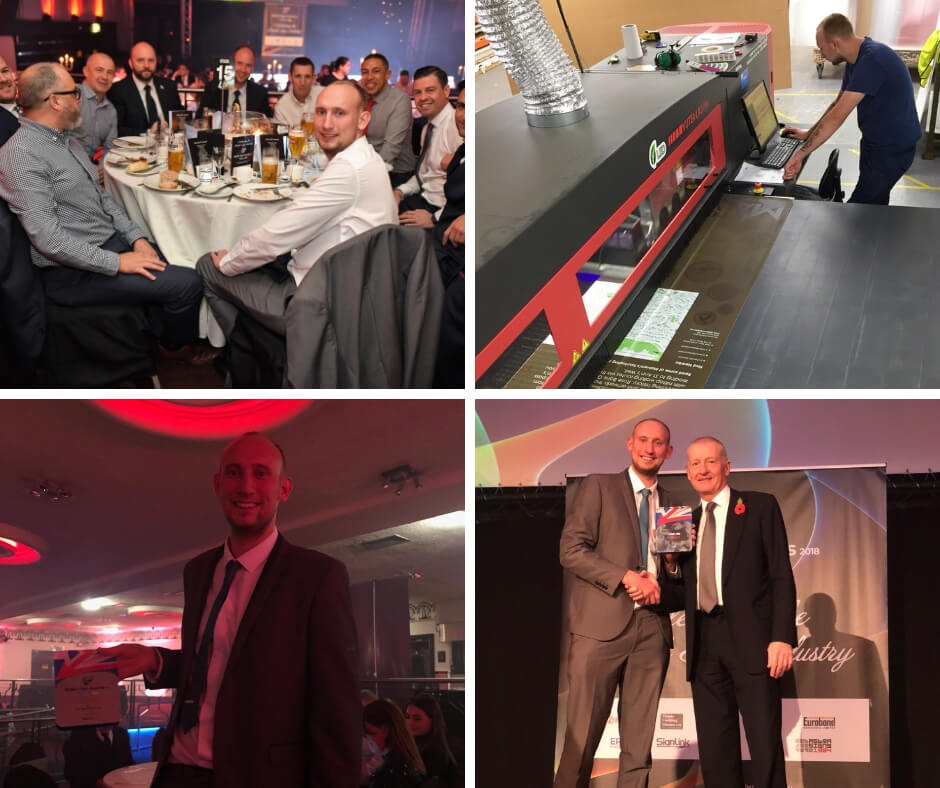 From the outset, Marc has shown dedication; he completed his apprenticeship in 12 months – instead of the usual 18 – and demonstrated real development and problem-solving skills ever since. This approach has continued throughout Marc's time at Reade Signs. It is his attitude that really drives him forward. Marc is a naturally quiet and reserved person, so it's understandable that coming in to join an established team might be daunting. However, Marc has really demonstrated a thirst for knowledge, a drive for personal development and he works brilliantly as part of our team.
Marc has continued to learn and recently trained to use our state-of-the-art EFI Vutek LX3 Pro printer. Amira Bouchiba from CMYUK, who trained Marc told us: "Marc has been what I would call 'the perfect student'… although he was not my only trainee, Marc stood out."
Since qualifying, he's really made this his mission and pushed himself ahead. This epitomises the drive and flexibility that has been at the core of the growth of Reade Signs and our founder, Andy Reade's philosophy since he started his career as an apprentice sign writer.
Marc recently met MP, Leo Docherty, who visited us to learn more about Reade Signs and how we develop apprentices. Marc's younger brother Kyle has also completed his Sign Makers apprenticeship with us, and our Assistant Account Manager, Jerome True has recently finished his Business Administration apprenticeship.
I've been thrilled by the rapid progress made by Marc. He's just got his head down and got on with it. He is very conscientious and a pleasure to work with. Congratulations from all of us at Reade Signs!
"The Young Signmaker of the Year award is designed to highlight how vital training and apprenticeships are to the sign industry. Young people are the future of the industry and unless we provide them with the right training, the industry will struggle in the years to come. This year, we had a record entry for the award, demonstrating that enlightened companies continue to invest in young people, but it is essential that more sign businesses follow their lead. Our congratulations to Marc and to Reade Signs for showing the way."
David Catanach, BSGA Director.