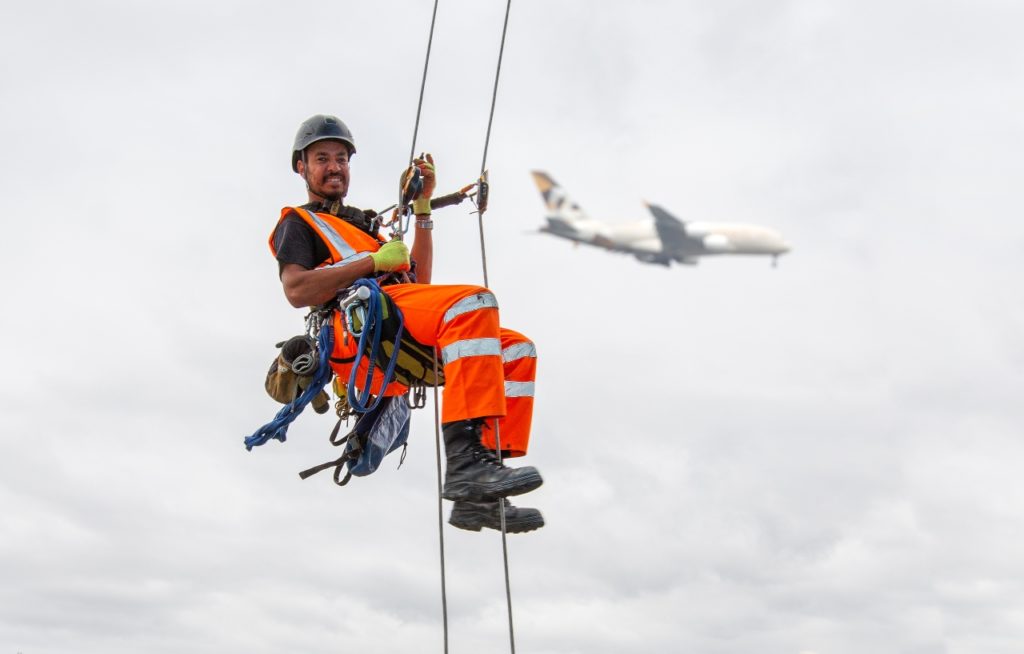 Back in 1980 when Andy Reade founded Reade Signs, there wasn't much in the way of health and safety. It's something that's hard to imagine today, particularly in the current climate of social distancing and stringent safety measures to protect people from the coronavirus.
However, with the '80s way behind us, safety compliance is one area of our business that we've been fanatical about for a long time now. We strive to find solutions that enable our production, installation and office staff to operate safely and observe strict regulations. A key aspect of our pledge to provide the highest quality of service is our approach to health and safety, whether we're on a building site, in a live public environment or in our factory. And we take regular advice from our own health and safety consultant who also runs workshops and briefings with our team.
Training and accreditation are so important to being professional and maintaining high standards at every stage of the design, manufacture and installation process. We make sure our team keep up to date with their safety training certification (IPAF, PASMA, IRATA), we use experienced personal and we undertake accreditation relevant to our industry. To ensure we can operate at a high level, we also regularly upgrade our technology.
Working at height is obviously a major area of focus for safe installation of signage. We use a variety of equipment, including advanced guard-rail mobile towers, pre-erected tube and clip scaffold, cherry pickers, and rope access with dedicated abseil teams. All our crews are trained to use this high-level access equipment.
The choice of equipment depends on site accessibility and what we're working over. At the One Blackfriars development in London, there was no way to gain mechanical access to install giant promotional vinyls, so we used our skilled abseil team to install them on the 33rd floor – making it visible across the entire South Bank. We've seen increasing use of rope access on large residential and commercial properties because it means we can install graphics to windows at a very high level, providing highly effective advertising.
Wind conditions are also an incredibly important factor at height and installation is often very weather dependent; we always have a keen eye on the weather forecast and installation can often be tricky in the winter months.
What we're working above also dictates the type of access equipment we select, for example if there's a public walkway below. Keeping installers safe is a crucial consideration, but we also need to meticulously consider public safety. We're often working in 'live' environments, for example, we installed signage over the main entrance of Kingston University when students were still coming and going to lectures. Road closures are often required, so we have an in-house Chapter 8 specialist who provides our traffic management facility.
However, the work to ensure safe installation at any level starts way before the actual installation day. Every project requires detailed set-up and planning. Risk and method statement procedures must be outlined. And a structural engineer designs all supporting structures to ensure wind loadings have been considered.
We're also always on the lookout for new ways of working that can improve health and safety, for example we're following advances in drone surveys, which can drive down the cost of surveying especially at height.
Follow this link to find out more about Reade Sign's safety accreditations. If you have a project you'd like to discuss with us, or would like some social distancing floor or wall graphics, please get in touch via enquiry@readesigns.com or call us on 01252 336 000.