Reade Signs were delighted to play a key part in marketing Barking Riverside, the largest brownfield redevelopment project in the UK, to the public.
An experience suite for the community
Barking Riverside is bringing more than 10,000 new homes to east London and we were set a challenge by the developers to transform four shipping containers into a temporary 'experience suite' – an exhibition and conference space for the public, local schools and community groups as well as stakeholders in the development.
The largest 3D development model in the UK
The brief specified a large video wall, seating for all ages and a private meeting room with a presentation screen.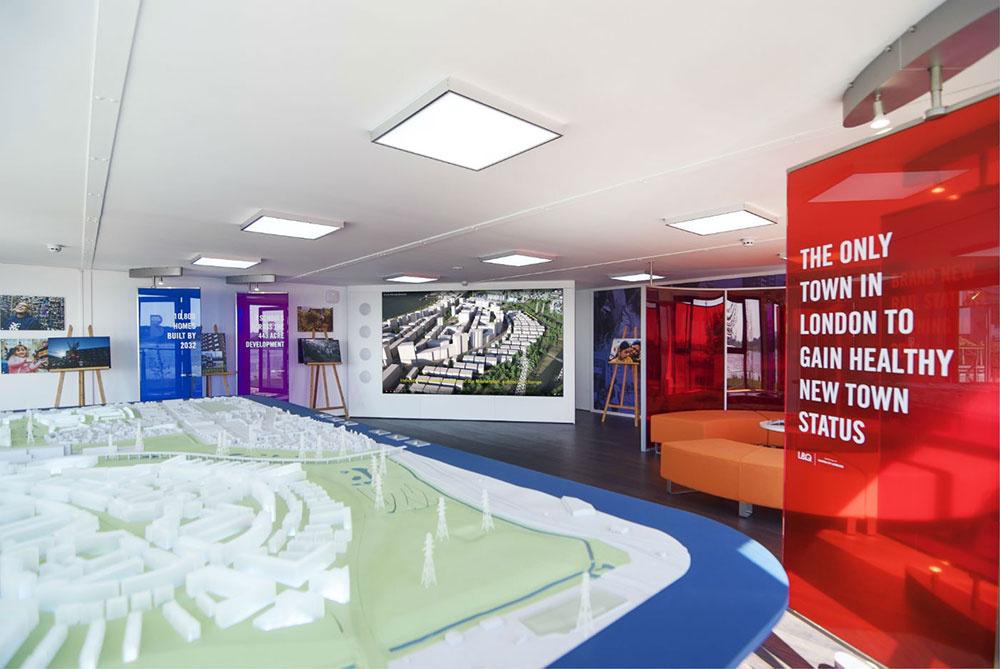 We were also asked to accommodate a vast, illuminated 3D printed model of the whole development. At 3.6 metres by 2.6 metres and with more than 1,000 model buildings, it's the largest 3D printed development model in the country.
Working in shipping containers
The simple, steel-skinned shipping containers set us the problem of what to do with all the internal wiring needed for the presentation equipment and domestic services.
We had to build special boxes into the floor and ceiling to hide them away, all within the requirement to fit out the suite as a professional but friendly place, using a bright colour palette set out in the development's brand guidelines.
Going the extra mile
Working to a tight deadline to meet the development launch event, we fitted out the experience suite with new electrics, flooring and display areas as well as all the seating and the video wall unit. We also installed large, high-level illuminated branding signage.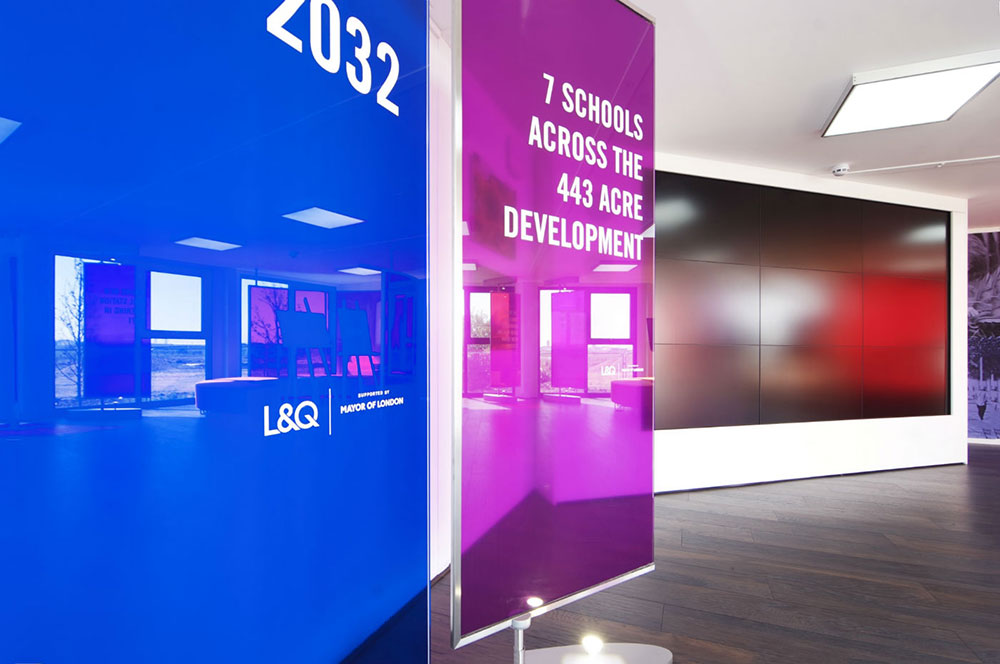 It's fair to say the developers and designer were delighted with the result, and appreciated how we achieved everything within very precise specifications.
"…thank you for your prompt action to make it a very successful install. I really appreciate Reade going the extra mile with last minute requests made yesterday and the day before"
David Rawlins, Principal Advisor Construction Health, Safety and Environment for Barking Riverside.
Reade Signs has experience creating marketing suites for developments. If you would like to find out how we can help you communicate your project to stakeholders and to the public, then please contact us, email us at enquiry@readesigns.com or ring 01252 336000.