Sign installation is nothing if not varied. We had two major projects earlier this year which had similar issues – access – to overcome, but we had to do it in two very different ways.
Royal Exchange, Kingston-Upon-Thames
On the face of it, this looked like a straightforward job, erecting illuminated hoarding cladding to protect and promote a new housing development for one of our major clients. The brief called for a bright, illuminated design along a 200m perimeter around the Royal Exchange development in Kingston-upon-Thames.
However, the main concern for us was the narrow pavement and busy road around the site, which was going to cause issues with how we could work safely.
We had enough time before this project to plan properly and our client had given us a dedicated area for storing a limited amount of materials. However, it was halfway along the perimeter and we still had to get our equipment and hoarding cladding sheets to the specific work areas every day along the narrow pavement, with traffic rushing by.
We came up with an innovative solution which we'll be using on other jobs in the future. We designed a bespoke trolley that could be folded flat to fit into our vans but could be assembled and loaded with cladding sheets. It had "all terrain" wheels to cope with curbs and it worked a treat, mainly because the whole team, especially those who would have to use it, were involved in the design.
Of course we had to run the design and construction past our client for health and safety reasons, but they were so delighted with our idea they promoted it within their organisation as an example of how sub-contractors can overcome problems with a bit of inventive thinking.
We also instructed a traffic management company to cordon off areas of pavement every day, on a rolling basis, for us to work in. We had to be very safety conscious working by such a lot of traffic, particularly when members of the public insisted on getting around the barriers and walking along the busy road behind us.
As for the design, we used built-up illuminated lettering and two recessed lightboxes so that it didn't stick out over the pavement. The hoarding will be in place for a while, so the lightbox design allows us to update replaceable message panels easily and cost-effectively.
Brunel Building, Paddington
Our second project was for a hoarding around an office development at Brunel Building in London. The perimeter runs alongside the Paddington Canal.
It was pretty obvious that erecting the hoarding alongside a busy waterway would be a challenge.
Fortunately, we organised specialist contractors working on pontoons to put up our hoarding along 80 metres of canalside perimeter, so we didn't have to put on the life jackets for that part. We simply manufactured the hoarding panels in our Aldershot factory. We used treated Sterling board for the client's distinctively minimalist, unfinished plywood look.
However, our challenge was to install a 64 metre section of hoarding spanning the canal on a footbridge.
Cage fitters
The canal is busy, so we couldn't shut it to erect a platform to install the sheets; instead, our own hoarding fitters were suspended above the water in a cage from a crane. This needed a lot of careful health and safety planning and close coordination with the constructors because this part of the construction site was very cramped and busy.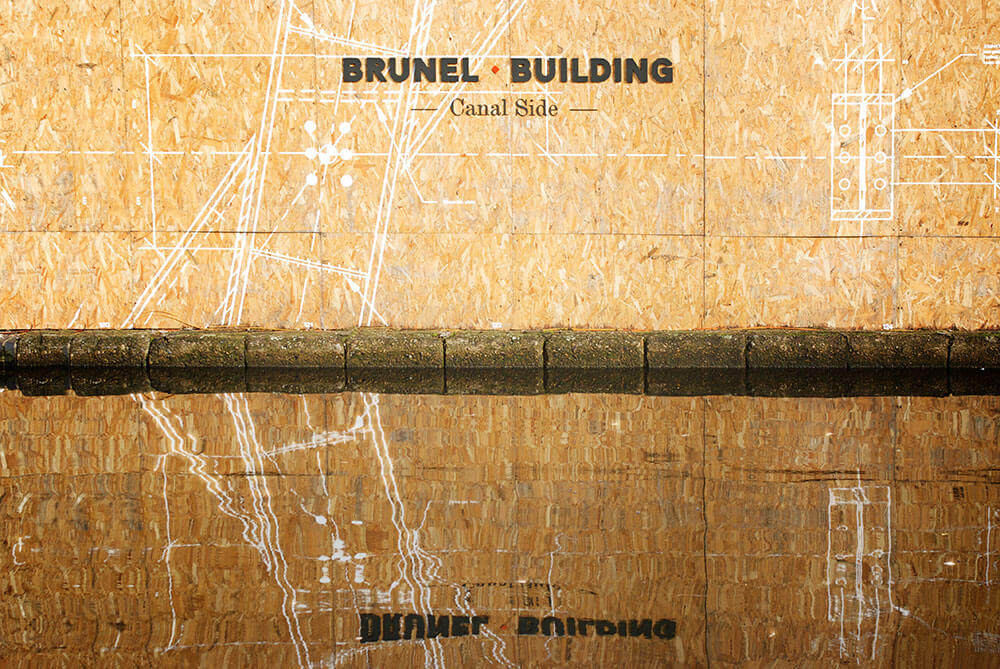 After several months, the job was completed. The self-adhesive letters and architectural drawing-inspired designs, picked out in white ultra-tack vinyl, look great and match our client's corporate image guidelines.
Access all areas? That just takes some time, planning and innovation
Every job we do has its own challenges and sometimes they require a unique solution. But as far as Reade Signs are concerned, wherever there's a hoarding to be put up, we will find a way to get a client's message seen.
If you'd like to know more about how Reade Signs can help your business get noticed, please contact us on enquiries@readesigns.com or call 01252 336000.
Reade Signs – Applying Knowledge. Creating Visions. Delivering Value.